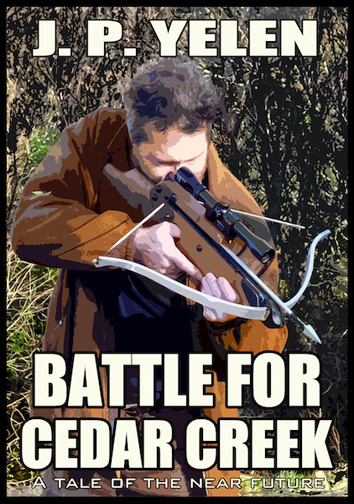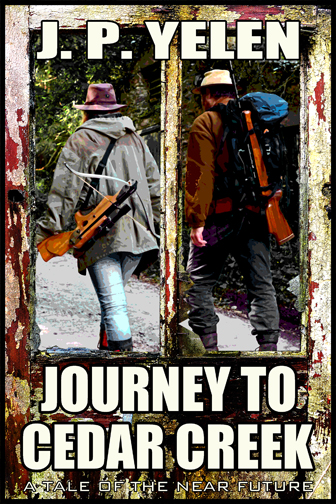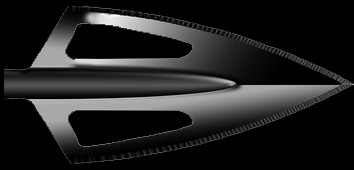 BATTLE FOR CEDAR CREEK
A TALE OF THE NEAR FUTURE by
J P YELEN
A generation ago a natural disaster devastated billions, and world governments collapsed. But life, although different, goes on for the hard working, innovative, self-sufficient townsfolk of Cedar Creek. That, however, is about to change. Cedar Creek has been invaded by a nihilistic biker gang, intent on rape and pillage, led by a violent and ruthless sociopath and backed up by the scary leader of the biker women and the sadistic self appointed sheriff who has a score to settle. But this is a new world, and the people of Cedar Creek have been tempered on the anvil of independence. The survivors of the first violent and abusive attacks escape into the mountains, and there follows a war of attrition to win back their town.

Available from all E-Book outlets


JOURNEY TO CEDAR CREEK

A TALE OF THE NEAR FUTURE by
J P YELEN

Three years after the giant tsunamis that devastated humanity, successful cooperative enclaves exist, but they are far from the doomed cities. In the dying urban landscapes, those who do not band together do not survive, and groups who work toward self-sufficiency are preyed upon by competing bands of rogue militia. The grieving nation knows that complete collapse is inevitable, but the distances between the cities and scattered rural havens are not just geographical... In a world where the ruthless can act without consequence, traversing the distance becomes a heroic odyssey. Join Mel and his daughter Jenny on their journey through this violent and unpredictable new world, where the smallest success may require a monumental effort, the simplest tool may be the difference between life and death, a moment's inattention may cost you everything you have won, and kindness and honor are currencies no one can afford... The journey to Cedar Creek.

Available from all E-Book outlets