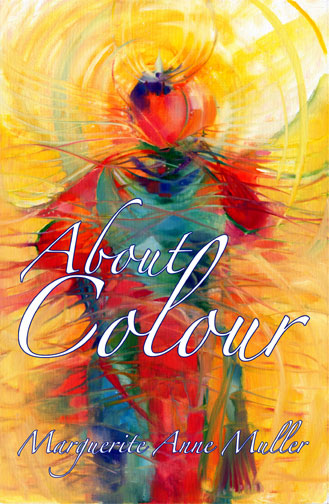 Anne has for many years been using colour to describe relationships, between people, within families, between couples, between parents and children, teachers and pupils...
She starts by describing the characteristics of colours, how they respond to each other and relate to us.
She continues on to reveal how colours influence our attitudes, behaviour and relationships.
From the refreshing viewpoint of an artist Anne enables us to see or sense the colours that emanate from us and surround us and helps us to recognise and interpret them.
The reasons for the compatibility of some of our relationships and the dysfunction of others becomes clearer and we are given the language and tools for healing our relationships, enhancing our own apparent and hidden qualities, and maturing into sane, balanced and aware human beings.










About Colour
by
M. A. Muller
17.oo Euro
including postage
worldwide.









-----------


Colour talks to us of worlds below the human level and worlds that are above: of Ariel and Caliban, with Prospero between the two.

Painters used to help us find our humanity through the use of colour. Beauty, we are told, is now to be found and admired in the hideous.

The imbalance is glaringly obvious, the message as unsubtle as being smacked on the head with a mallet: the glorification of Caliban - this thing of darkness.

We need to reawaken to the glory of colour; the magic and mystery of its ever changing beauty, its grandeur in nature and in the landscape, how it plays across the changing skies, how it inspires and uplifts, and talks to us of the treasures of the spirit.

We are Prospero and colour can be our wand, our early warning system and our rescue.


----------------


ABOUT COLOUR CAN BE OBTAINED FROM
ASKIF PRESS - BRUSHWOOD - SNEEM - COUNTY KERRY - IRELAND

TEL 064 - 45108 - International ++353 64 6645108 -

Any comments please to